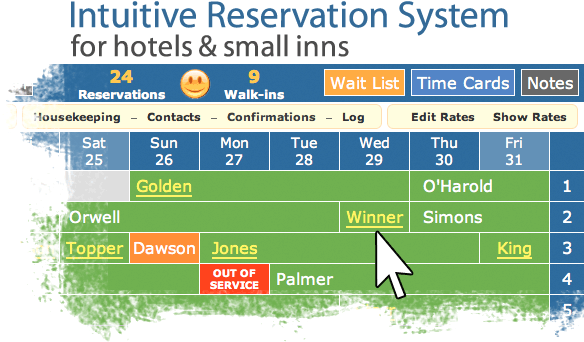 Why InnCommand?
Web reservations increase occupancy, lower your toll-free phone bill, and free up staff to focus on making your guests comfortable rather than answering phone calls.

Real-time rates and availability displayed on your website encourage valuable web reservations.

Advanced booking engine maximizes your occupancy with back-to-back booking and customizable rules for power users.

User friendly software reduces training time with its intuitive interface. Anyone familiar with a web browser will feel at home using InnCommand. Most desk persons feel comfortable with InnCommand after just one hour, and master it less than a week.

Intelligent waitlist accepts requests from both visitors to your website and the front desk, alerting staff only when the request can be fulfilled.

Web based means you can manage your property from Mac or PC's web browser wherever work or play takes you in the world.

Designed by hotel owners means that InnCommand was built from the ground up for hotels, motels, inns, and B&Bs.

Change rates easily from anywhere as often as you need to adjust to changing market conditions. Weekly rates and day of week rates are also supported.

Digital timecards reduce payroll preparation time, lower labor costs, and eliminate expensive errors.

Full scheduling allows you to post weekly schedules both in the office and to employee email accounts, forecast employee costs, and reduce scheduling errors while integrating seamlessly with our digital timecards.

Sophisticated reports track finances, credit card settlements, web visitors, employee performance, reservation trends, and a great deal more.

Multiple users means that each person with access to InnCommand at your property has a unique access code that leaves a digital fingerprint on every action. User groups include Office Persons, Housekeeping, Maintenance, General Managers, and Administrators.

Cash drawer support tracks cash payments, deposits, withdrawals, checks, and drawer counts all digitally signed by each individual office person.

Credit card support allows for swiped transactions, hand-keyed transactions, and detailed reconiliation reports with automatic batching.

Mac & PC compatible lets you use your preferred operating system.

Unlimited terminals means you can run InnCommand on as many computers as you need without paying more.

Automatic data backups ensure that reservation data is stored in a secure datacenter with redundant internet connections, 24-hour monitoring and diesel-powered electrical backup.

Specials can be managed from inside InnCommand and displayed on your website without needing to know HTML or paying your webmaster for the updates.

Housekeeping will love InnCommand's printable daily housekeeping sheets that clearly show check-outs, stay-overs, room moves, and guest requests.

Mobile support lets you stay connected on the go. View daily stats, office logs, and rooms still needing to check-in all from your mobile phone.

Free updates occur automatically ensuring that your property benefits from InnCommand's latest enhancements and features.

We listen to your feedback and are proud to announce that 80% of suggestions received in 2008 from our clients have been applied to InnCommand by our programming team.
© 2010-2017 InnCommand, LLC